With the development of industrial automation, which is nowadays an integral part of the vast majority of manufacturing companies, robots are finding more and more applications, gradually replacing monotonous or health-threatening human work. The advantages of robots are clear. These tireless helpers work regardless of working hours, with great precision and speed. In times of labour shortages, they are also a possible solution where workers are scarce. Robot manufacturer DOBOT is responding to this trend by offering a range of intelligent robots, from simple four-axis and SCARA robots to flexible six-axis collaborative robots, with an emphasis on safety, simple deployment and easy programming.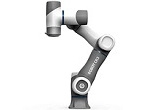 Robots designed for various types of demanding industrial applications are often encountered, and DOBOT is no exception. It offers a range of CR industrial 6-axis collaborative robots with payloads of 3 kg, 5 kg, 7 kg, 10 kg, 12 kg and 16 kg, suitable for a variety of demanding applications.
However, DOBOT also caters to the needs of small and family-owned businesses by offering not only affordable robots, but also easy-to-program robots. It offers an effective solution wherever they are just committing to robotization or where they are concerned about the complexity of deploying robots and the high cost of external programmers.
Commissioning DOBOT robots is no more complicated than connecting to a computer, and they can be programmed even without programming knowledge with a simple learning process that allows the robot to repeat learned operations exactly. By guiding the robot to the desired locations and with simple control of the gripping mechanisms, most common applications can be prepared in a matter of moments.
For intermediate and advanced users, there is an intuitive graphical environment that already offers advanced forms of programming, but still without the need to know the syntax of the programming language, thanks to the prepared colored code blocks that can be put together like a puzzle.
For professional use, an environment for standard script programming is prepared, including a useful library of commands for controlling and working with the robot.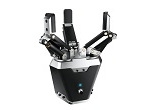 For industrial robots we also supply a range of servo grippers, magnetic grippers and pneumatic grippers, various types of suction cups and soft grippers. Robotic vision for advanced applications is also available. CR robots also support a range of tools and accessories from third-party manufacturers.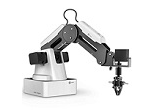 With the development of polytechnic education, various types of robots are finding increasing use in schools. From small, single-purpose robots to true industrial robots. The disadvantage of the small, simple ones tends to be a certain limitation in terms of use, while the industrial ones have complex programming. The advantage of the DOBOT educational robots is the combination of the features of industrial robots and an controls that can be adapted to the user's level of knowledge. This is one of the reasons why DOBOT MAGICIAN robots are so popular among pupils, students and their teachers.
The great advantage of these teaching robots is the programming possibilities, which allow both simple work with the robot in the form of learning without any knowledge, as well as fun programming using pre-made colored blocks of code that are put together like a puzzle and, of course, full-fledged script programming with support for Python, C#, Visual Basic and other languages. Robots can therefore be used effectively from primary and secondary schools to universities and the intensity of teaching can be flexibly adapted.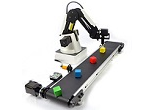 An equally great advantage is the wide range of different tools and accessories for working with the robot. The robot package includes a pneumatic and vacuum gripper including an air pump for pick-and-place applications, a pen holder for drawing and scribing and, depending on the robot version, a head for 3D printing, laser engraving, a control joystick, a module for wireless communication or a camera for simple robot vision. There's also a conveyor belt for simulating a production line, a meter-long linear travel that will significantly extend the robot's range of action, an Arduino Kit for simulating the control system, and true robotic vision for experimenting with AI algorithms or advanced industrial applications.
Applications
DOBOT robots are suitable for a wide range of applications, from the simple to the most demanding. Some of the most common include various types of assembly, dispensing and coating, painting, polishing, machine operation, packaging and palletizing, finishing, material handling, material removal or quality control. The possibilities of deploying robots are very wide indeed. They replace heavy, monotonous or dangerous human work and, thanks to their speed and precision, increase the quality and efficiency of production and, of course, competitiveness. Robots are used in the production process as stand-alone single-purpose units or as part of a complex automation system.
Our services
We offer our customers maximum support in the field of robotics. The pre-sales support is not only in the form of a presentation of our robots and a proposal of solutions for the robotization of your workplace, but also with a practical demonstration and the possibility of testing the robots in our company premises.
We usually have the robots in stock, or we deliver them within about 4 weeks of ordering. We can also arrange turnkey projects for you through our system integrators.
As part of our after-sales support, we offer the possibility of training in the operation of the robots in our company's training facilities or, by agreement, directly at the customer's premises.
We can also provide the necessary service and technical support.
We organise a number of seminars and training courses throughout the year.
For schools
We offer schools a very cost-effective offer of teaching robots and their accessories, which also applies to companies that would like to support schools in this way. We also offer schools free robot demonstrations, seminars and teaching materials. For more information visit www.dobotmagician.cz.